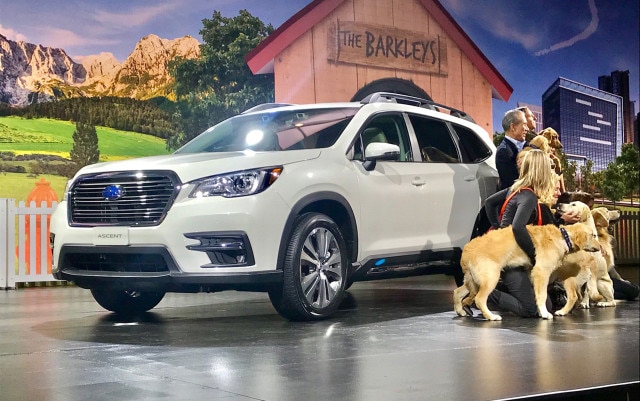 Subaru Unveils the 2019 Ascent
Its official! The 2019 Subaru Ascent has officially been announced marking Subaru's return to the full-size SUV market. We can expect to see the first production models hitting showrooms in late 2018. Subaru has been dominating in the crossover segment for years with their Outback, Forester and Crosstrek; however, they have been absent from the full-size SUV market since 2014 when they discontinued the Subaru Tribeca. With the implementation of their new Global platform Subaru will be returning to the full-size SUV segment without losing any of the quality, safety and reliability that has defined their crossover segment.
The Subaru Ascent is much larger than any other Subaru, but it is built on the same Global Platform as the 2018 Subaru Crosstrek and the recently unveiled Viziv Performance Concept Car. This Global Platform allows Subaru to build full-size SUVs, hyper aggressive sports cars, and everything in between. This platform allows safety ratings to remain optimal across all platforms. Vehicles on the Global Platform will also benefit from modular and interchangeable parts and engines which will reduce the overall cost of ownership of a Subaru.
The Subaru Ascent is focused on larger families. This is a demographic that has been a bit hit and miss with Subaru since the loss of the Tribeca. The Subaru Ascent has a third row with seating for 7 and second row captain's chairs. The interior includes 19 cup holders and eight USB ports to ensure everyone in the family is happy. No official MSRP was announced for the Subaru Ascent but it was suggested that it will be competitively priced around $30,000.
All Subaru Ascents will come standard with Subaru EyeSight. The EyeSight system is an advanced safety system that includes features like lane keeping assist, and automatic emergency braking. The upper trims will have additional safety features such as 180-degree front camera, and reverse automatic braking. A live video feed rearview mirror will be available on Touring models. The live video feed rearview mirror is great in situation where the Subaru Ascent's rear window is obstructed by luggage or passengers.
Subaru has been teasing us with the Subaru Ascent for 2 years now when they first introduced it as the Viziv-7. It is good to see that Subaru concepts aren't just dreams, they are realities. The Subaru Ascent is sure to make a huge splash in the SUV market come next fall and we can't wait to get them in our showroom at Rairdon's Subaru of Auburn.