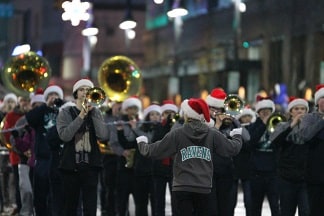 Auburn Santa Parade and Tree Lighting
Auburn's annual Santa Parade and Tree Lighting celebration will be held on Saturday, December 2nd this year. The event will be filled with fun holiday festivities for the family. The festive and fun children's parade will commence at 4:30 pm. The parade lineup will start at 4:00 pm and begin on E Steet NE. Pre-parade entertainment and festivities will be offered until 4:30 pm.
Your Child Could Light the Tree
This year Santa is looking for a special helper to light the Auburn Christmas Tree. The official Tree Lighter will light the giant Christmas tree in front of City Hall on December 2nd. The city of Auburn will be accepting nominations for a child, ages 5-9, to help assist Santa with this holiday tradition. Entries will be accepted through November 27th at 5pm. One lucky well-deserving child will be selected for this fun holiday experience. To nominate a child visit: http://www.auburnwa.gov/thi…/special_events/tree_lighter.htm
The annual Santa Parade will be followed by traditional community caroling which will culminate with the lighting of the City Hall Christmas Tree. The lighting of this spectacular and enormous tree will be complimented with a wonderful and festive synchronized light show.
Those wishing to participate in the parade are invited to register online at: http://www.auburnwa.gov/things_to_do/special_events/santa_parade.htm.
The deadline for online registration is Thursday, November 30th at noon. For those that missed the online registration but still wish to participate in the parade can register on-site from 4:00pm-4:30pm.
Leashed pets are welcome at the Santa Parade & Tree Lighting.
Parade Map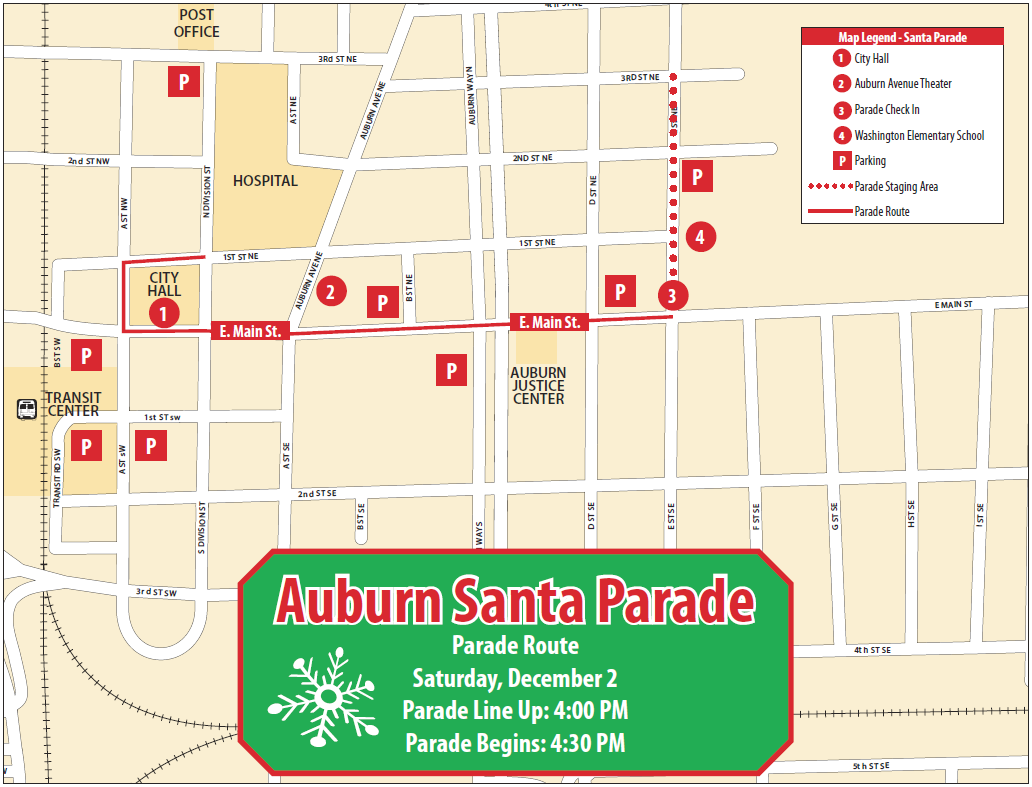 Other holiday activities include:
Holiday Snack & Crafts at Washington Elementary, 20 E Street NE.
Event will be held on Saturday, December 2, from 2:00 - 4:00 PM. This is a great opportunity for families to create fun holiday gingerbread houses and ornaments. This is a warm way to ring in the holidays while you wait for the parade to begin.
Admission into the Snack & Craft is $5 at the door. You can pay the Admission in advance at the discounted price of $3/$4 (resident/non-resident) online, over the phone by calling our Parks Front Desk at 253-931-3043, or in-person at the Auburn Community and Events Center (910 Ninth ST SE, Auburn WA 98002).