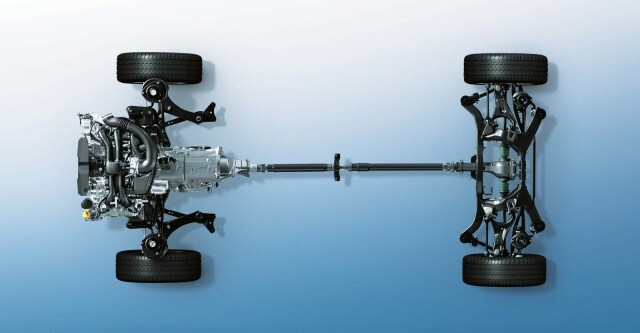 The Subaru Global Platform
Subaru's Global Platform will be the foundational structure for all Subaru models moving forward in 2018. The idea of the "Global Platform" will focus on improving safety and adaptability across all models in the Subaru line up. The platform is designed around the low center-of-gravity and compact size of the boxer engine in order to improve stability, control, and safety. The new sub-frame design of their global platform is designed to optimize the efficiency of the Boxer engine and symmetrical all-wheel drive. This platform will eventually become the standard underpin for all Subaru models. This will allow for streamlined production of all models and ensure that superior safety and crash test ratings continue to be achieved for every Subaru model.
The Global Platform is already being equipped on the 2018 Crosstrek and the new Impreza Compact. Safety on these new 2018 Global Platform models is greatly increased. The new system utilizes high-strength steel to create stiffer frames that absorb impact energy 40% better than any current Subaru Model. That is quite the improvement considering all Subaru models over the last 3 years have already received the highest crash test ratings possible from the Insurance Institute of Highway Safety. This is in line with Subaru's vision of achieving the highest levels of collision safety in the world. The new sub-frame also gives the Global Platform models a lower center of gravity which increases handling and responsiveness.
EyeSight technology is another key factor in the Global Platform vision of improving driver safety. In 2014 Subaru began its mission of making progressive enhancements on the EyeSight technology. They aim to include EyeSight technology as a standard feature on all Subaru models. Currently they are working toward improving EyeSight technology to provide collision protection in all directions, not just forward. The Eyesight technology is currently being utilized for systems such as Lane Keep Assistance, but Subaru is looking to expand that to fully automated driving systems by 2020. The goal for EyeSight technology is to eventually provide distinct Subaru systems for automated driving.
Streamlining production is also a key factor in introducing the Global Platform. Streamlined production will lead to more affordable vehicles for the consumer. With a global platform there will be no need to reconfigure assembly plants to accommodate production. This streamlined production allows Subaru to provide more high-end technology in their vehicles at an affordable price. The Global Platform will also allow for modulation across new engine and electric motor types. The Global Platform will allow any vehicle to be equipped with the classic inline boxer, an electric hybrid, or a fully electric motor.
The Global Platform is truly visionary. This platform will enhance the already best-in-class safety without sacrificing the reliability and performance that makes a Subaru a Subaru. If you are interested in learning more about the new Subaru Global Platform, then come schedule a vehicle demonstration of a new 2018 Subaru Crosstrek at Rairdon's Subaru of Auburn. Our award winning customer service team members are highly knowledgeable Subaru experts. Let us show you why we, and so many others, love Subaru.