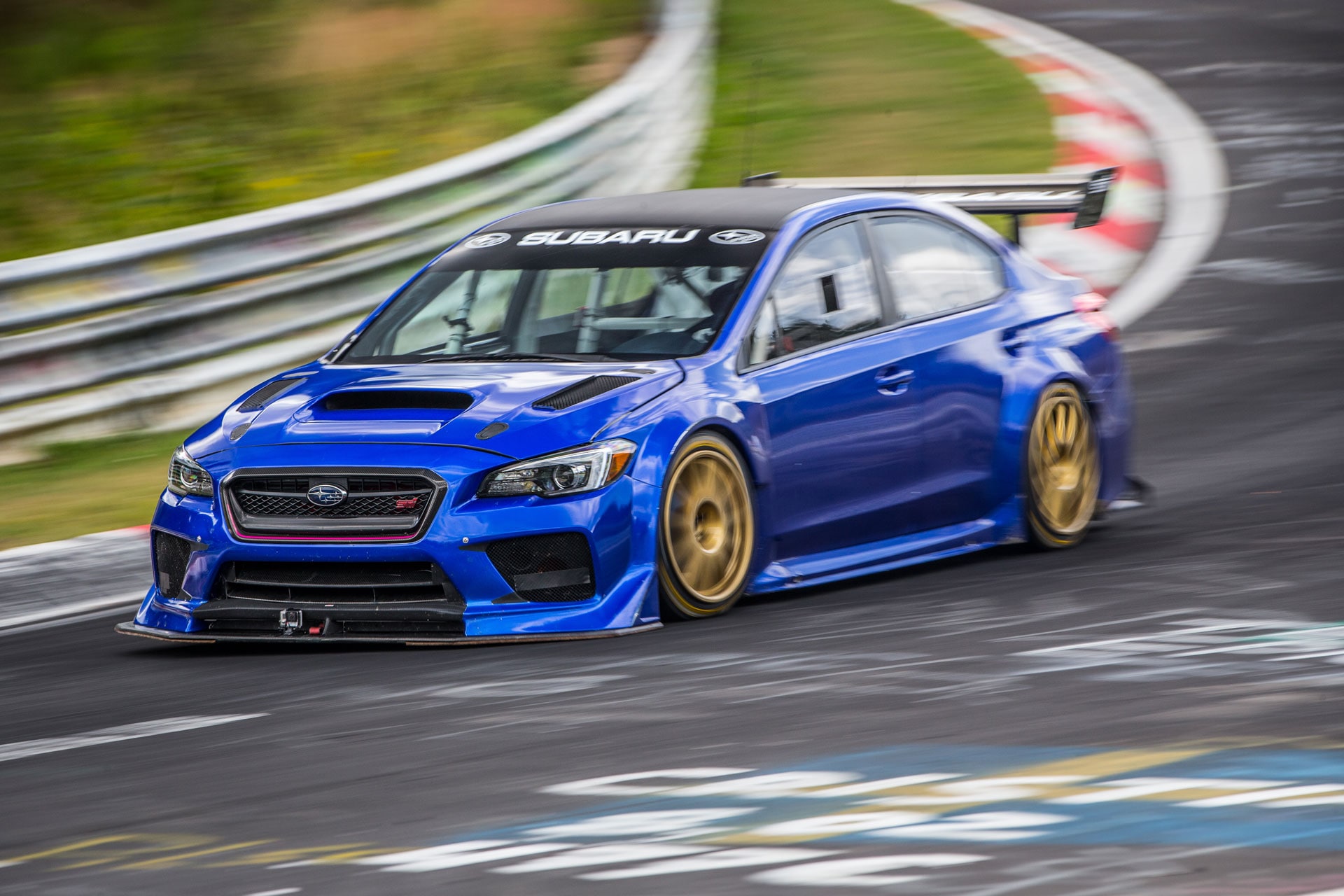 WRX STI Type RA NBR Nürburgring Lap Record
The WRX STI Type RA NBR has set the new record at Nürburgring for the fastest lap in the sedan category. With La Mans driver Richie Stanaway at the wheel Subaru managed to set the track record on their first try coming in at 6:58:09. The Nürburgring Nordschleife track is considered one of the most difficult tracks in the world and has become a popular test site for manufactures looking to test the full aspect of performance in their vehicles. The sub 7 minute time was recorded using official Nürburgring timing equipment and was verified by track officials.
The impressive track record can be viewed here:
Lap Record 00:06:59
The WRX STI Type RA NBR was designed to showcase the capabilities of the Subaru sedan and Symmetrical All-Wheel Drive. The WRX STI Type RA NBR has set lap records at the Isle of Man TT, the Goodwood Festival of Speed hill climb (where it was also 3rd fastest overall) and now it has conquered the 12.8-mile (20.6-kilometer) lap around the Nürburgring Nordschleife achieving a time of 6 minutes and 59 seconds. The WRX STI Type RA NBR is equipped with a rally spec 2.0-liter Boxer engine and Subaru Symmetrical All-Wheel Drive.
Based on the 2017 WRX STI


Built on a stock 2017 WRX STI, The WRX STI Type RA NBR has a custom built full roll cage welded into the standard WRX STI unibody for added strength and stiffness. The 2.0-liter boxer motor was specially modified to use a 75-mm intake and a turbo that runs 25 psi of boost. This modified 2.0-liter boxer engine produces an impressive 600 horsepower at 8,500 rpms.
The WRX was equipped with 9-inch-wide slick tires for the Nürburgring track. It used a WRC gearbox with an automatic clutch and hydraulic paddle-shifters. The WRX STI Type RA NBR recorded some of the fastest shift times ever at 20 to 25 milliseconds.
The RA NBR model is designed with similar technology found in Formula 1 cars. Its unique drag reduction system has a high-tech rear wing that helps provide up to 650 pound of downforce. The wing can be manually operated from steering wheel mounted controls allowing the driver to control drag and downforce while racing. The electric hydraulic system makes it easy for the driver to increase downforce when braking and turning, and reduce downforce on straightaways.
A History of Record Setting
The RA model types stand for Record Attempt. These models are based on the chassis of stock models with substantial mechanical upgrades in order to set world records. The first RA models were designed in 1989 when the Subaru Impreza set the world speed record for 100,000km in 447 hours, 44 minutes and 9.887 seconds with an average speed of 139.6mph. To put it more simply, that's circling the globe 2.5 times in a Subaru Impreza. It takes a vehicle built for endurance, durability, efficiency, and speed to break records like that, and through the course of 28years that has been a focal point of Subaru manufacturing and design.
The WRX type RA NBR isn't quite "street legal", but the stock chassis that it was built on certainly is. The WRX STI comes with a turbocharged boxer engine that delivers 305 horsepower and 290 lb-ft of torque. With its Symmetrical All-Wheel Drive that is standard in all Subaru's you'll get enough power and handling out of your WRX to leave anyone in your rearview covered in mud.
If you are interested in checking out the options and features available in any of the 2018 WRX models, then come down to Rairdon's Subaru of Auburn and schedule a test drive with our award winning customer service team today. Our Subaru experts can help you find the perfect Subaru to full-fill your rally car dreams.