Rairdon's Subaru Certified Pre-Owned Program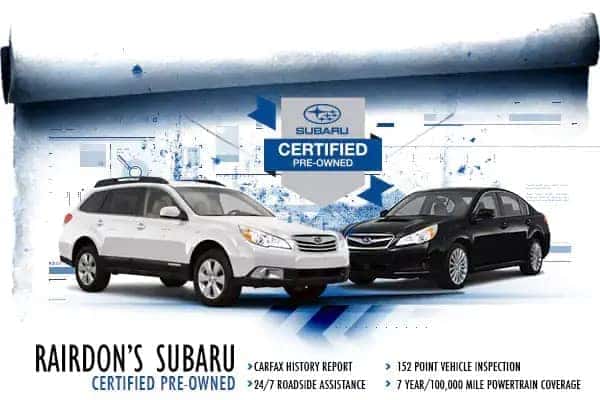 Buying a Certified Pre-Owned Subaru from Rairdon's Subaru of Auburn offers you a number of great benefits. We hold our Certified Pre-Owned vehicles to the highest of standards. Each one of our Pre-Owned Vehicle receives a rigorous 152-point Vehicle Safety Inspection. If during the inspection we find something that does not meet these high standards it is repaired or replaced. We also include a CARFAX® Vehicle History report with every Certified Pre-Owned Subaru, giving you the full history of your vehicle, from past service records, to the number of previous owners.
A Certified Pre-Owned Subaru from Rairdon's Subaru of Auburn also provides you with the peace of mind that should a problem occur; your vehicle will be taken care of. Each Certified Pre-Owned vehicle comes with a Subaru-backed 7 year/100,000 Mile Powertrain Coverage Plan. This plan will cover any issues with the Transmission, Engine, and All-Wheel Drive. And each vehicle comes with 24/7 roadside assistance.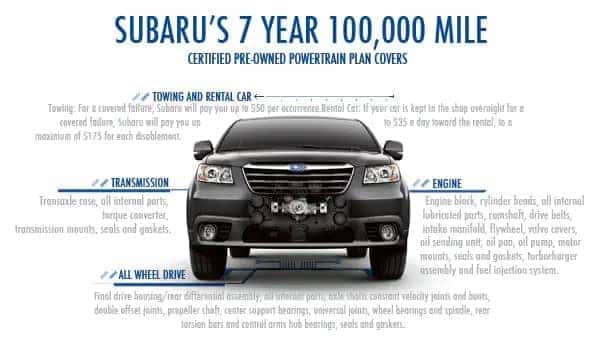 Subaru's 7 Year 100,000 Mile Certified Pre-Owned Powertrain Plan Covers the Following:
Engine
The Powertrain Plan covers the parts of the engine block, drive belts, oil pump and pan, the oil sending unit, all internal lubricated parts, all the seals and gaskets, the camshaft, cylinder heads, valve covers, flywheel, intake manifolds, the motor mounts, the turbocharger assembly, and the fuel injection system.
Transmission
Covered are the transmission, transmission mounts, the transaxle case, the torque converter and all the seals and gaskets.
All-Wheel Drive
Included are the parts of the final drive housing/rear differential assembly, all internal parts, constant velocity joints and boots, double offset joints, universal joints, rear torsion bars and control arms, hub bearings, center support bearings, wheel bearings and spindle, axle shafts, propeller shaft, and the seals and gaskets.
Towing and Rental Car
If a covered failure occurs and your car needs to be towed, Subaru will pay up to $50 per occurrence. If the failure requires your car be kept overnight for repairs, Subaru will pay up to $35 a day for the rental, up to a maximum of $175 for each disablement.
Rairdon's Subaru of Auburn also offers two Added Security Plans that upgrade your coverage further.
The Added Security extended service plans are backed by Subaru of America and Rairdon's Subaru in Auburn is proud to offer them to our customers. Come see us at 3025 Auburn Way N, Auburn, WA 98002 to learn more about these two great coverage plans for your Certified Pre-Owned Subaru.
Subaru Classic Plan
The Subaru Classic Plan will cover everything that is covered by the Powertrain Plan and will add coverage of the Steering, Front Suspension, Cooling and Fuel system, Air Conditioning, Electrical, and Brakes.
Subaru Gold Plus Plan
If you're looking for coverage that resembles the manufacturer's bumper-to-bumper coverage you may want to consider the Subaru Gold Plus Plan. There are only a few body parts and maintenance services that are not covered. The Gold Plus Plan also gives you the added benefit of trip allowance. If while traveling out of town you experience a breakdown, Subaru will pay up to $500 towards lodging and meals for you and your family, if the repairs are covered. 24-hour emergency on-site road service for jump start, a tire change with your good spare, delivery of gasoline, and other minor repairs, as well as Road Hazard Tire Protection are all also included.
Having an Added Security Plan not only gives you the peace of mind that your car will be taken care of, they also offer a number of other great benefits:
With an Added Security Plan the value of your car will increase. If you sell your Subaru to a private owner any of your remaining coverage can be transferred to them, or you can cancel your coverage and apply for a pro rate refund.
If you choose a Subaru plan with a deductible you will only be required to pay the deductible once per repair visit. Some other plans with deductibles can charge for each different component that is repaired during each visit.
All Subaru cars that are still covered under Subaru of America's basic warranty are eligible for an Added Security Plan, unless it is for commercial use or equipped with a snowplow.
Finding the coverage that works best for you is easy. There are eight different plans with varying lengths of coverage to choose from.
Rairdon's Subaru is proud to honor all Added Security Plans and our Factory Trained Technicians will perform all necessary repairs. You can also find nearly 600 authorized Subaru dealers in the United States and Canada, all with Factory Trained Technicians that use Genuine Subaru Parts. In an emergency you can call Subaru toll-free and find an authorized repair facility.
For even further coverage Subaru also has two Maintenance Plans for you to choose from:
2 or 3 years/ 30,000; 36,000; or 45,000 miles
Mileage intervals – 3,750 or 7,500
If you're leasing your Subaru the cost of the Maintenance Plan can be included in your lease payment. And roadside assistance is included for no additional cost.
Choosing a Maintenance Plan helps you to lock-in the cost of your scheduled maintenance that is required to keep your factory warranty in place, and it ensures that your car will remain in prime running condition. All maintenance services are performed by Factory Trained Technicians with Genuine Subaru Parts.
To find out more about Certified Pre-Owned Vehicles and all the great Added Security Plans offered at Rairdon's Subaru visit our Auburn dealership today at 3025 Auburn Way N, Auburn, WA 98002 or give our Sales Department a call at 253-205-0587.